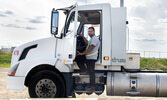 Day Cab Owner Operator
TAG Logistics Corporation provides qualified driver services to clients across Canada. We are currently hiring a full time Class 1 Day Cab Owner-Operator for city pick-up and delivery of groceries in Edmonton and surrounding areas.
What we offer:
· Competitive Rates that vary with load (weekly wage starting around $3800).
· A Waiting Time and Delay Program
· Protected Fuel Rates
· Health & Dental Benefits
· RRSP Program
· A Clothing Allowance and more!
What we look for in applicants:
· Have a minimum of 2 years verifiable tractor-trailer driving experience that includes winter conditions
· Have a minimum of one year verifiable City P&D owner-operator experience
· Have less than 3 demerits on your abstract
· Pass a Criminal Record Search
Do you already own a "white day cab" that is 5-6 years old?
TAG Logistics Corporation is an equal opportunities employer. We welcome applications from all interested individuals, however, only those candidates selected for an interview will be contacted.