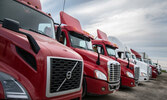 Class 1 Driver - Acheson to Calgary
We seek an experienced, permanent full-time Class One Tractor-Trailer operator to complete scheduled highway trips from Acheson/Edmonton to Calgary & return. This is a 4 day on/2 day off rotating schedule and you will be home every day. Departures are between 0200 & 0400. Drivers can expect to earn between $65,000 - $75,000 per year.
We provide:
$0.55/mile
$25 per drop
Waiting and delay program
$250 monthly Safety Bonus
Health & Dental Benefits
A Clothing Allowance
We look for:
3+ years verifiable tractor-trailer driving experience
Less than 5 demerits on your abstract
Able to pass a Criminal Record Search
TAG Logistics Corporation is an equal opportunities employer. We welcome applications from all interested individuals; however only those candidates selected for an interview will be contacted.