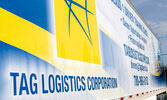 Class 1 Driver - Solo Runs
We are currently hiring for a Class 1 single driver for highway runs. You will be required to maintain your Hours of Service log book, perform vehicle inspections, and safely operate a tractor-trailer combination including LCV (paid training provided). Regular runs to places like Grand Prairie, North Battleford, High Level.
Sign on bonus of up to $5000
Sign on bonus of up to $8000 for already qualified LCV drivers.
We offer:
· $32 per hour for diving time, $29 per hour for on-duty (non drive) time
· A premium for LCV miles driven - $0.10 Per mile.
· Paid training (including LCV training).
· Health & Dental Benefits
· RRSP Matching
· A Clothing Allowance
What we look for:
· Class 1 Driver's License
· 2+ years of verifiable Class 1 driving experience
· Less than five demerits on a 5 year Commercial Driver's Abstract
· Able to pass a Criminal Background Check
TAG Logistics Corporation is an equal opportunities employer. We welcome applications from all interested individuals, however, only those candidates selected for an interview will be contacted.
1320