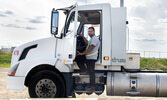 Day Cab Owner Operator
We are currently hiring a full time Class 1 Day Cab Owner-Operator for city pick-up and delivery in Edmonton and surrounding areas.
Great rates of pay. Monday to Friday working days.
What we offer:
· Competitive Rates that vary with load (weekly wage starting around $3800).
· A Waiting Time and Delay Program
· Protected Fuel Rates
· Health & Dental Benefits
· RRSP Program
· A Clothing Allowance and more!
What we look for in applicants:
· Have a minimum of 2 years verifiable tractor-trailer driving experience that includes winter conditions
· Have a minimum of one year verifiable City P&D owner-operator experience
· Have less than 3 demerits on your abstract
· Pass a Criminal Record Search
Do you already own a "white day cab" that is less than 10 years old, or are in the process of getting one?
TAG Logistics Corporation is an equal opportunities employer. We welcome applications from all interested individuals, however, only those candidates selected for an interview will be contacted.